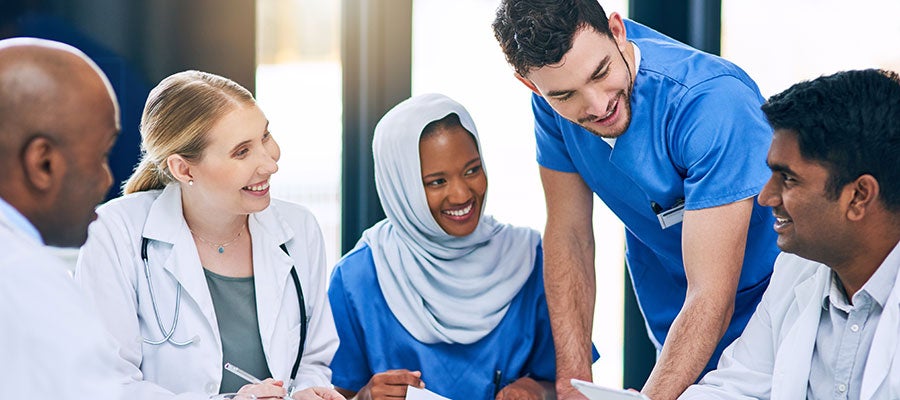 Team-Based Care Creates Value
Interdisciplinary care teams improve quality, outcomes and the patient experience
Editor's note:This article is excerpted from an AHA The Value Initiative issue brief that's part of a series of briefs framing the complex issue of affordability. These issue briefs can be used to initiate conversations with stakeholders in your community. You can read the full brief here.
The COVID-19 pandemic is highlighting the importance of interdisciplinary care teams. Team-based care enables health care professionals to respond to patient needs and increasing volume, and to support one another.
What Is Team-Based Care?
The health care needs of Americans are often complex, as is the health care system patients have to navigate during an illness. To better support patients and their families through an acute or chronic illness, hospitals and health systems are adopting team-based models of care that encompass patients' medical and social needs across the care continuum. Team-based care is a promising, low-tech approach that allows health care workers from varying professional disciplines to provide customized, patient-centered care to manage the physical, psychological and spiritual needs of their patients.
As hospitals and health systems continue to move toward value-based care, team-based approaches provide a pathway to value by improving outcomes, enhancing the patient experience and reducing cost. This issue brief explores how to build effective care teams and how organizations can utilize team-based models to improve value.
Defining Team-Based Care
National Academy of Medicine defines team-based care as "The provision of health services to individuals, families, and/or their communities by at least two health providers who work collaboratively with patients and their caregivers — to the extent preferred by each patient — to accomplish shared goals within and across settings to achieve coordinated, high-quality care."
Creating Interdisciplinary Care Teams
Interdisciplinary care teams take the multidisciplinary approach to the next level by ensuring that the providers work collaboratively, rather than just alongside one another. Interdisciplinary care teams bring together health care professionals from several disciplines to work toward a common goal, allowing each team member to draw on their discipline's unique skills and capacities.
Creating effective interdisciplinary teams should be an intentional and concerted effort. The National Academy of Medicine identified five core principles to enable care providers to foster effective care teams. Those principles are:
Shared Goals: The team establishes shared goals that reflect the priorities of the patient and family. The goals are clearly articulated, understood and supported by all team members.
Clear Roles: There are clear expectations for each team member's functions, responsibilities and accountabilities.
Mutual Trust: Team members trust one another and feel safe to admit a mistake, ask a question, offer new data or try a new skill without fear of embarrassment or punishment.
Effective Communication: The team prioritizes and continuously refines its communications skills and has consistent channels for efficient, bidirectional communication.
Mutual Processes and Outcomes: There is a reliable and ongoing assessment of team structure, function and performance that is provided as actionable feedback to all team members to improve performance.
Fostering the team dynamic is a continuous process. These principles should be implemented intentionally and worked on and refined so that over time, team-based models become ingrained into a hospital's culture.
As hospitals assemble interdisciplinary care teams, they should be mindful to keep the patient and their family as central members of the team. Team members should understand the medical, social and emotional needs of the patients, and structure their work to achieve the goals articulated by the patient.
Team-Based Care Improves Value
By adopting team-based care models, hospitals can improve value for the patients they serve. There is a growing body of research that points to team-based care being an effective lever to improve all three components of the value equation — quality and outcomes, patient experience and cost. A study from the American College of Cardiology found that team-based care led to improved quality of care, increased patient satisfaction, more efficient care and improved financial outcomes.
Implementing team-based care requires hospital leaders to examine how care is organized, how health professionals interact with each other and with patients, and how health care providers are educated and trained. The skills needed to work as a team are not innate — they must be learned.
Outcomes
Team-based care can improve quality of care and outcomes for patients. Teams that communicate effectively and demonstrate mutual support reduce the potential for error, resulting in enhanced patient safety and improved clinical performance.
Hospitals should consider both process and outcomes metrics as they measure the impact of team-based care on quality and outcomes. For example, processes can be made more seamless and efficient through care teams. Those improvements may be reflected in patient outcomes measures, such as reductions in complications and readmissions rates or improved management of chronic diseases.
Patient Experience
Team-based care is designed to meet patient needs and preferences. Engaging patients as full participants in their care while surrounding them with the appropriate resources to meet their needs will improve patient satisfaction. Research has shown that patients who think their care team works well together often perceive their care to be a higher quality.
Hospitals can conduct surveys, focus groups and interviews with patients to better understand their experience in the hospital and identify the components of care that matter most to their patients. They should then align their team-based care strategy to meet those needs. Hospitals can measure improvement by tracking patient experience metrics before and after implementing team-based care through the Hospital Consumer Assessment of Healthcare Providers and Systems (HCAHPS) scores or patient surveys.
Conclusion
Assembling a team of health care providers from diverse professional backgrounds has the power to improve value for hospitals and for patients. By working together and leveraging the unique skills and expertise of all team members, hospitals can make progress on their journey to provide the best possible care for the patients and communities they serve.