Stakeholders Target Health Disparities During a Pandemic
Examples of sharing data, developing partnerships and identifying solutions
Editor's note: This item originally ran in the AHA Center for Health Innovation Market Scan newsletter on June 9, 2020. Market Scan provides insights and analysis on the field's latest developments in health care disruption, transformation and innovation. To subscribe, please click here.
COVID-19 may be an invisible enemy that threatens all people, but evidence is mounting that it is disproportionately more lethal to racial and ethnic minorities and the poor as well as those with chronic conditions like diabetes.
To address these disparities, hospitals and health systems and various stakeholders have been working together to find new ways to share data and develop solutions.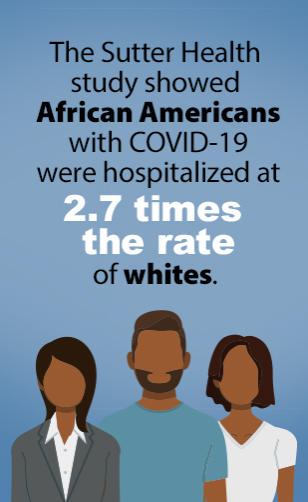 Sutter Health Analyzes Data, Develops Solutions
California-based Sutter Health has taken steps to learn why certain racial, ethnic and socioeconomic groups are being hit disproportionately hard by the pandemic. To help develop solutions, the organization's Advancing Health Equity team undertook a thorough data analysis of the nonprofit system's COVID-19 patients. The results, published recently in Health Affairs, found that African American COVID-19 patients are 2.7 times more likely to be hospitalized than their non-Hispanic white counterparts, and they tend to arrive at Sutter health care facilities sicker and with more severe symptoms.
The findings underscore the fact that race and ethnicity still play a pivotal role in determining how and when care is accessed. Despite having health coverage, African American COVID-19 patients may not seek testing and care until it is an emergency requiring hospitalization. But the real value of the study, notes Kristen M.J. Azar, R.N., Sutter Health's lead author for the study and research scientist within the Sutter Health Center for Health Systems Research, lies in its ability to inform Sutter Health's work in developing solutions that address equity gaps and to engage in community outreach in high-risk neighborhoods.
Community-based outreach, testing and access to culturally competent care within the African American community hold the promise of earlier testing, diagnosis and the potential to have a positive impact on some of the disparities. In the case of COVID-19, early identification is especially important as this can reduce community spread of the disease.
LifeBridge Health, serving Greater Baltimore, has developed cross-sector partnerships to improve equity of care to COVID-19 patients, and is taking part in a statewide Task Force on Vulnerable Populations for COVID-19.
The task force uses a data-driven approach to identify communities and individuals at highest risk for severe outcomes from COVID-19. It then uses data and mapping to guide the deployment of outreach and resources to vulnerable populations including homeless people, older adults living in congregate dwellings and those with limited access to care.
Susan Mani, M.D., LifeBridge Health's chief population health officer, engaged a company called Socially Determined to leverage information from multiple data sources to generate a COVID-19 risk index for severe outcomes that was mapped on county, city and neighborhood levels throughout Maryland.
Risk scores for communities and individuals are shared with city health officials. Local health officials can take the data and mapping into account along with their local expertise to deploy their outreach, moving high-risk groups into hotels for social distancing, testing, etc.
OGHS Enhances Communication, Addresses Social Determinants of Health
Louisiana-based Opelousas General Health System (OGHS) in St. Landry Parish, west of Baton Rouge, was able to rapidly improve communication across its mostly rural community of 90,000 residents to help address social determinants of health and other issues related to COVID-19. OGHS is part of the Healthy St. Landry Alliance, a consortium of more than 25 local partners that includes other health care providers, local government, faith-based organizations and community groups.
As the pandemic hit, the alliance took the lead in managing the region's response by initiating daily conference calls to enhance communication, establishing a vital connection between health care providers and the community for COVID-19 resources and updates. These communications fed directly into the alliance's external relations efforts, allowing the community to quickly inform and educate its residents on social distancing and other safety guidelines, as well as how to seek medical assistance.
Through its communications pipeline, trusted community partners such as local churches and faith-based organizations helped to pinpoint residents' needs, which OGHS and other alliance partners were able to address, e.g., mobilizing food banks and providing support for its diaper bank. To learn five actions to take to promote health equity during the pandemic, read this AHA Institute for Diversity and Health Equity one-page issue brief.