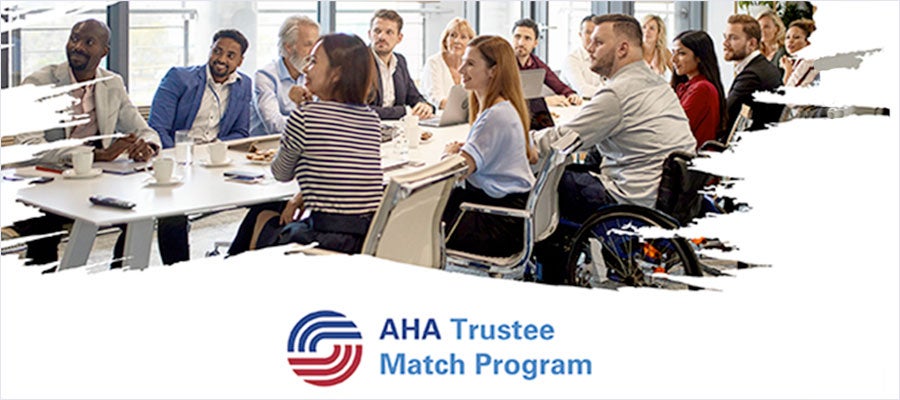 AHA's Trustee Match Program
Increasing diversity in health care governance
There is growing recognition that having diverse representation on hospital and health system boards results in better decision-making about how to serve different patient populations, which leads to improved care and outcomes for all patients.
That's one of the reasons the American Hospital Association partnered with UnidosUS and the National Urban League to create AHA's Trustee Match Program (TMP). The goal of the TMP is to help increase diversity and inclusion in health care governance by connecting affiliate leaders from both organizational partners with opportunities to serve on a hospital or health system board in their community. The program focuses on matching AHA member hospitals with vetted community leaders demonstrating a range of diverse characteristics as a way to facilitate dialogue and create more opportunities to improve diverse representation on boards. You can learn more about the TMP by visiting https://www.aha.org/trustee-match-program.
We must ensure that the governing bodies of our hospitals and health systems reflect the communities they serve. Doing so will improve health equity, reduce disparities in care and create a more diverse and inclusive health care environment. We encourage you to join us on this journey toward achieving health equity and greater diversity in governance.
Organizations interested in applying to the TMP can complete an Organizational Profile Form here. If you have any questions or are interested in requesting an informational meeting about the TMP, please contact Sonia Malik, associate director, health equity strategies, at smalik@aha.org.