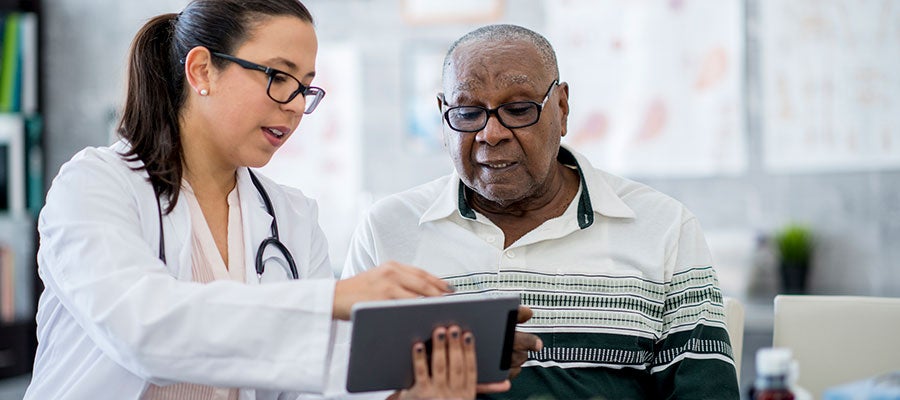 Understanding Patients' Social Needs
Health systems are developing ways to identify and address patients' unique social needs that influence their health and outcomes of care
By Lola Butcher
Even as health systems are addressing the social determinants of health — for example, lack of public transportation or food insecurity — in the communities they serve, they must also understand each patient's individual needs.
"As health systems, we have a duty to understand the things going on in a person's life that impact their ability to carry out their medical plan of care and stay healthy," says Nancy A. Myers, Ph.D., vice president, leadership and system innovation, for the American Hospital Association's Center for Health Innovation.
The concept of social needs is related to, but distinct from, the concept of social determinants of health. Social needs reflect an individual's personal circumstances; social determinants of health reflect systemic issues that affect a community and cause individuals to have social needs that impact their health.
"Asking the patient the right kind of question is key to assessing their social needs," says Kelly M. Luther, director of social work and patient/family services at University of Rochester Medical Center. "It's 'how do you get to and from your medical appointments? Does your refrigerator have food in it? Do you have a support system — family or otherwise?'"
A new AHA resource — "Screening for Social Needs: Guiding Care Teams to Engage Patients" — says there is no one-size-fits-all approach for social needs screening for — and addressing —social needs. At URMC, clinicians know how to recognize a patient's needs, and they know to refer patients to Luther's department.
"It's our responsibility as a social work team to mobilize resources that might be of assistance to help an individual succeed," she says.
In Chicago, Sinai Health System recently teamed with other area health systems in a new initiative to screen emergency department patients for social needs, says Helen Margellos-Anast, senior research analyst and senior epidemiologist at Sinai Urban Health Institute.
Through the Connect ED program, the health systems jointly developed a uniform social-needs screening tool to ask patients about housing, utilities, food security, transportation and access to health care. Sinai added questions about domestic violence and gun violence, two issues that bring many patients to its emergency department. "We have integrated our community health workers into our emergency department to screen for social needs and also to intervene when they find patients have needs," she says.
The Connect ED program is designed to address patients' individual needs but also help identify issues that warrant broad attention from the health systems.
"We will find out about needs that we are currently not able to address and, if we get a better sense of the true need, we'll be able to advocate for policy changes or ways to bring more resources to address homelessness, for example, or other major needs," she says. "This is an excellent way to get data about what your population really needs that will inform where to prioritize future resources."
Lola Butcher

is a contributing writer to Trustee Insights.