Sample Governance Dashboard for Monitoring Executive Compensation Programs
TRUSTEE Toolbox / Dashboards/Scorecards
Overview
As health care organizations face a number of emerging challenges, the compensation committee of the not-for-profit hospital and health system board is well served to review and update the executive compensation program periodically.
To support oversight, the board compensation committee should develop a dashboard that focuses on executive compensation-related outcomes measured over multiple years. By tracking outcomes, the committee can ensure that the program operates consistently with the established philosophy and that areas requiring attention are readily identified. When combined with comprehensive tally sheets and affirmation that all executive compensation arrangements are fully disclosed to the committee, there is a comprehensive baseline underlying the committee's deliberations. Such longitudinal measures focus on program metrics, demographics, performance outcomes and recruitment/retention. Examples include:
Structure and demographics, such as the number of executive positions, age and tenure distribution of the executive team, and diversity in executive roles.
Actual market position versus the target for base salary, total cash compensation, total direct compensation and total compensation.
Executive compensation expenditures as a percentage of hospital/health system expenses or net operating revenue.
Average executive salary increases, with and without market adjustments, versus those of non-executives.
Incentive award payouts (annual and longer term) as a percentage of target.
Number of executives recruited from or leaving for peer group, health care and general industry organizations.
To learn more about reviewing and updating an executive compensation program, click here.
Excerpted from "Key Action Steps for the Compensation Committee in 2019," by Timothy Cotter and Kathryn Hastings (Trustee Insights, March 2019).
---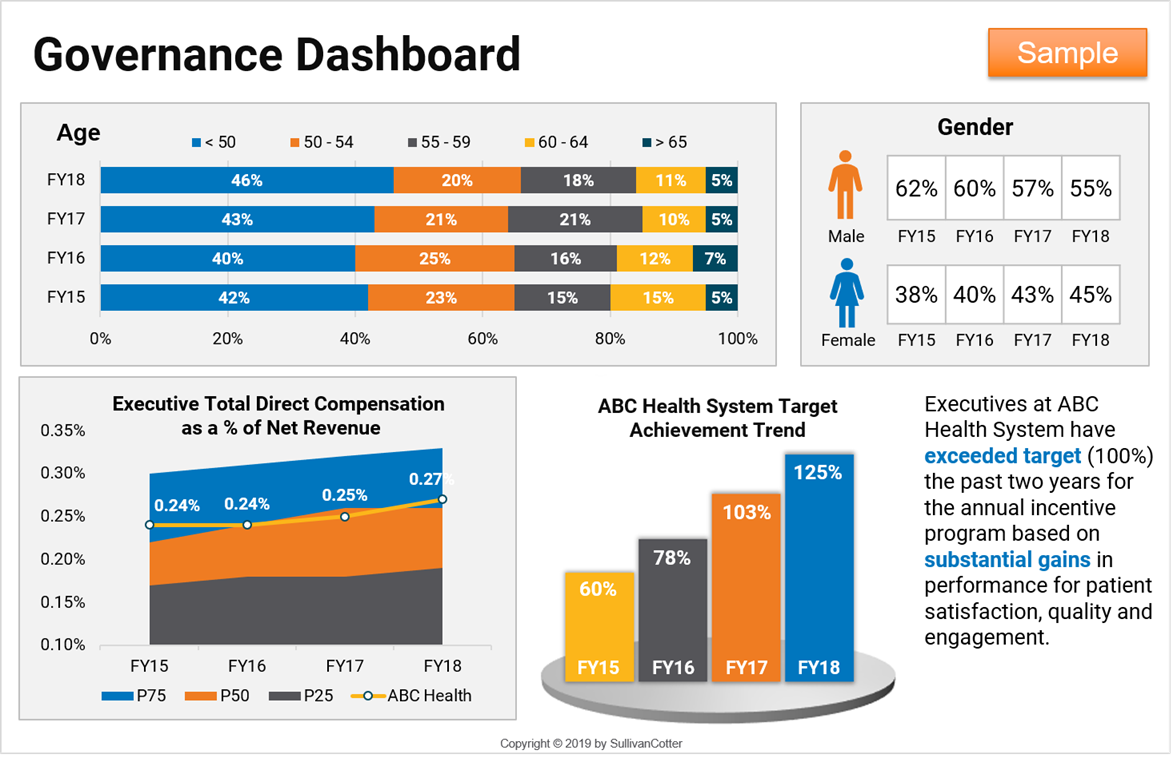 Key Resources